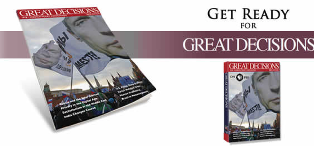 Time to register for 2020 Great Decisions program
The World Affairs Council of Greater Reading's Great Decisions program will return in 2020.
WAC teams with seven other community groups to hold facilitated discussions based on readings and videos prepared by the Foreign Policy Association. WAC believes that civil, contemplative discussion is valuable and promotes understanding.
For 2020, the FPA will cover eight hot topics: Climate Change and the Global Order, India and Pakistan, Red Sea Security, Modern Slavery and Human Trafficking, U. S. Relations with the Northern Triangle of Central America, China's Road into Latin America, The Philippines and U.S., and Artificial Intelligence and Data.
The general public is welcome to register and attend at any of the seven hosting locations, including the retirement communities. Each hosting group will administer its program, including subjects, dates and charges. Several hosting groups may start in January 2020, so December registration is encouraged.
WAC will have a master schedule so missed subjects can be made up at other locations.
Groups and contact information:
Jewish Cultural Center: Amanda Hornberger, 610-921-0624 or amandah@jfreading.org
Wyomissing Library: Ann Sheehan, 610-374-2385 or sheehana@comcast.net
Library at Lititz: Steve Franz, 717-656-0353 or shfranz@gmail.com
Reading Public Library: Linda Capozello, 610-478-8977 or linda.capozello@reading.lib.pa.us
Phoebe: Carol Ort, 610-927-3412 or kcorts@gmail.com, or John Mattes, badjohnmat42@comcast.net
The Highlands: Jared Martz, 484-220-8265 or martzj@the highlands.org
The Heritage: Cheryl Anderson, 484-269-5145 or canderson@heritagegh.com