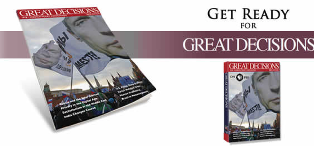 The World Affairs Council teaming with up to five other community organizations runs the Great Decisions Program. WAC believes there is value in serious, contemplative discussion and Great Decisions is a prime example of that belief.
The Great Decisions Programs are moderated discussion groups held in conjunction with at least five community groups at various times and locations across the community. The Program is based upon written material and associated videos prepared by the Foreign Policy Association which chooses up to nine issues of international concern and has national experts address the issues in writing and video.
Great Decisions issues for 2019 include Refugees and Global Migration, The Rise of Populism in Europe,Cyber Conflict and the State of the US State Department.