CANCELLED – Women in Elective Office: Challenges and Opportunities with Judy Schwank, Sandy Graffius, and Johanny Cepeda-Freytiz
March 19 @ 7:30 am

-

9:00 am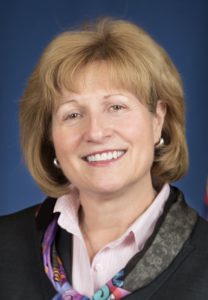 CANCELLED DUE TO CORONAVIRUS PANDEMIC
With the ratification of the 19th Amendment, August 20, 1920, women gained the right to vote in the United States. One hundred years later, women are realizing an increasingly stronger presence in elective offices across Pennsylvania and the nation.
A panel of three Berks County elected officials, moderated by Lynn Brown, president, World Affairs Council of Greater Reading, will discuss the challenges and opportunities facing women today in seeking and holding elected office.
State Senator Judy Schwank represents Pennsylvania's 11th Senatorial District, which includes the City of Reading and many of its surrounding boroughs and townships. Since her appointment in 2011, Senator Schwank has championed issues that directly affect women and children.
Sandy Graffius has served as Berks County Controller since 2004. She brought 25 years of business ownership to the position. The controller supervises the fiscal affairs of the county, including a review of all audits, bills and claims, and reports regularly on the fiscal conditions of the county.
Johanny Cepeda-Freytiz was appointed to a seat to represent District 6 on the Reading City Council in January, 2019, and then elected to a full term in November, 2019. Born to immigrant parents from the Dominican Republic, Ms. Cepeda-Freytiz is a Berks County Business owner and community activist.
To Register:  Call 610-375-7886 or email: contactus@wacreading.org
Cost To Attend:  $10