The Transatlantic Relationship in an Era of Great Power Competition with Consul General David Gill of Germany
May 30, 2019 @ 11:30 am

-

2:00 pm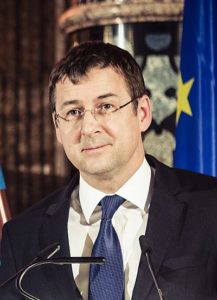 For video playback of this event, click HERE
Your World Affairs Council of Greater Reading is excited and proud to have been selected by The World Affairs Councils of America as one of the top World Affairs Councils in the U.S. to take part in Wunderbar Together: The Year of German-American Friendship. This comprehensive and collaborative initiative is funded by the German Federal Foreign Office and supported by the Federation of German Industries. The goal is to create a positive understanding of the strong economic, social and political ties the United States shares with Germany.
We are therefore extremely pleased to have the opportunity to host Mr. David Gill, the German Consul General from the German Mission in New York City, who will discuss the positive ties between our two countries.  Mr. Gill is responsible for consular and legal assistance for U.S. and German citizens within Pennsylvania, New York, New Jersey, Connecticut and Bermuda. As he states in his Mission write-up: his role is to explain Germany, understand America and foster successful discussions and exchange of ideas.

This event is Open to the Public
Doors open at 11:30 AM
RSVP required by May 28th: Call 610-375-7880 or Email contactus@wacreading.org
Cost: $20.00, non-eating attendees – $10.00, students – free.
Consul General David Gill, German Consulate General New York   Born in 1966, Gill grew up in a protestant minister's family in Herrnhut, Saxony, in former East Germany. He was denied a higher education by the communist regime for political reasons. Instead, he trained and worked as a plumber before joining a preparatory protestant school and later the theological seminary of the Protestant Church in Berlin-Brandenburg. In 1990, he initially was the chairman of Normannenstrasse Citizens' Committee which oversaw the dissolution of the Ministry of State Security at the Stasi headquarters and served as the secretary of the Special Committee for the dissolution of the Stasi of the East German Parliament. After reunification, Gill became spokesman and head of the research division of the Federal Commissioner for the Stasi-Files before studying law in Berlin and Philadelphia. After holding positions in the Federal Ministry of the Interior and at the Commissioner for Data Protection and Freedom of Information in Berlin, he served as the Deputy Representative of the Council of the Protestant Church in Germany to the Federal Republic of Germany and the European Union. During Federal President Joachim Gauck's term from 2012-2017, he was state secretary and chief of staff of the President. Since August 2017, he has been the German Consul General in New York.