Israeli Politics, the State of U.S. – Israeli Relations and the Recent Peace Accords with Dr. Lee Lukoff
January 28 @ 4:00 pm

-

5:30 pm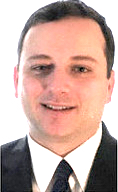 This event is co-sponsored by the Jewish Federation of Reading
In 2019, Lee Lukoff graduated from the University of Georgia with a Ph.D. in Political Science and International Affairs. He holds Master's degrees from Boston College (Political Science) and George Mason University (Public Policy). In 2008, his research interests include subjects in the areas of American Foreign Policy, Intelligence Studies, US-Israel Relations, Middle East Politics,  and Political Psychology.
He has taught fifteen courses as an Instructor of Record on topics such as International Conflict, Global Issues, US-Israel Relations, and American Public Policy.  He currently teaches at the University of Georgia's Washington Semester Program and in the Department of Government at American University.
In 2017, He was awarded a university grant that allowed him to serve as a Visiting Research Fellow at the Harry S. Truman Institute for the Advancement of Peace at Hebrew University in Jerusalem. During his time at Hebrew University, he interviewed former government officials for his dissertation on US-Israel Relations in the 1980s.  He is also a founding member of the Early Career Scholars Group of Intelligence Studies in the International Studies Association and has published in the Journal of Intelligence History, American Intelligence Journal, Journal of European and American Intelligence Studies, and The Encyclopedia of U.S. Intelligence. His book reviews have been published in the Journal of Cold War Studies and the International Journal of Intelligence, Security, and Public Affairs.
Click here to register for this event now.
Or join us on Facebook Live.