Israel: Prospects for Conflict Resolution with Dr. Eran Lerman
March 13, 2019 @ 12:00 pm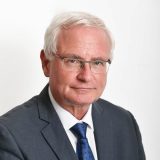 Colonel (res.) Eran Lerman Ph.D.
Israel: A Study in Conflict Resolution
For video replay of this lecture, click HERE.
For video replay of the Q&A session, click HERE
Dr. Lerman is Vice President of the Jerusalem Institute for Strategic Studies. Previously, Dr. Lerman was deputy director for foreign policy and international affairs at the National Security Council in the Israeli Prime Minister's Office. He held senior posts in IDF Military Intelligence for over 20 years. He also served for eight years as director of the https://www.youtube.com/watch?v=qIViJ5sU2Qk&t=21sIsrael and Middle East office of the American Jewish Committee. He teaches in the Middle East studies program at Shalem College in Jerusalem, and in post-graduate programs at Tel Aviv University and the National Defense College. He is an expert on Israel's foreign relations, and on the Middle East. A third-generation Sabra, he holds a Ph.D. from the London School of Economics, and a mid-career MPA from Harvard University. His recent publications include The Mediterranean as a Strategic Environment: Learning a New Geopolitical Language and The Game of Camps: Ideological Fault Lines in the Wreckage of the Arab State System.
To Register:
Call (610) 375-7880 or email contactus@wacreading.org
Cost to attend:
Members $23
Non-Members $30
Without Meal $10
Ambassadors Included