Ukraine/Russia with Amb. John Herbst
August 5, 2020 @ 12:00 pm

-

1:30 pm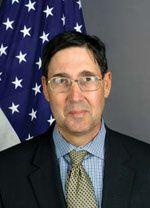 Ambassador Herbst joined the United States Foreign Service in 1979. He has worked as a political counselor at the U.S. embassies in Tel Aviv, Israel, Moscow, Russia, and Riyadh, Saudi Arabia. He has also worked as the Director of Regional Affairs in the Near East Bureau of the United States State Department, as Director of the Office of Independent States and Commonwealth Affairs, as Principal Deputy to the Ambassador-at-large for the Newly Independent States, and as U.S. Consul General in Jerusalem. He was appointed Ambassador to Uzbekistan in 2000, and to Ukraine in 2003. In 2006, Secretary of State Condoleezza Rice appointed Ambassador Herbst as Coordinator for the Office of Reconstruction and Stabilization. He assumed the new position in the summer of that year.
Ambassador Herbst assumed the position of Coordinator for Reconstruction and Stabilization in the summer of 2006. During his tenure, Ambassador Herbst launched the Civilian Response Corps, grew its ranks to over 1,000, and oversaw their missions in countries that include Sudan, Chad, Haiti, Lebanon, Kosovo, Iraq and Afghanistan. Under Ambassador Herbst's direction the Civilian Response Corps and the Office of the Coordinator for Reconstruction and Stabilization supported over 20 U.S. Embassies. His responsibilities included planning and coordinating to prevent conflict and deliver sustainable stabilization solutions to countries in danger of, emerging from or in conflict.
Ambassador Herbst was particularly successful in building interagency support and using the concept of smart power through policy committees and coordination teams that include persons from the United States Agency for International Development and the departments of Justice, Commerce, Agriculture, Homeland Security, Health and Human Services and Treasury.
During the period that became known as the Orange Revolution in Ukraine, Ambassador Herbst was involved in the events which led up to and defined Viktor Yushchenko's presidency. Ambassador Herbst was described by Pakistan's Daily Times as "an erudite, charming and linguistically gifted diplomat" whose accomplishments "conveyed Bush policy that Ukraine should not join the Common Economic Space with Russia, Belarus and Kazakhstan because 'it is not in [its] interests to have this integration complicated'."
In 2005, Ambassador Herbst, serving as U.S. Ambassador to Ukraine, called the reputation of Mykola Bilokin, Minister of the Internal Affairs of Ukraine from 2003 to 2005, "unacceptable." Later in the month Ambassador Herbst worked with newly appointed Minister of the Internal Affairs of Ukraine, Yuri Lutsenko, to reform the ministry. The new ministry was restructured to meet the changing political and socio-economic environment in Ukraine. During the meeting Ambassador Herbst offered the support of American law enforcement officers and noted that the U.S. is willing to provide aid to the Ministry of Internal Affairs.
Following the Orange Revolution, Ambassador Herbst facilitated funding of objective sources of news in Ukraine. His efforts led to the United States Agency of International Development funding $2.4 million to be spent towards the development of mass media in the country. Ambassador Herbst implemented his strategy by focusing on readying trainers and educators in the communications discipline, including Ukraine's Center for Ukrainian Reform Education and Kiev non-governmental organization Telekritika. Ambassador Herbst oversaw tertiary funding including the Open Media Fund, sponsored by the International Renaissance Foundation and worked with his associates at the U.S. Embassy, including press attaché Brent Byers, to allocate $750,000 in 2005. Ambassador Herbst oversaw funding in support of independent media in Ukraine. Ambassador Herbst coordinated with the European Commission to Ukraine and effectively secured an additional 3.5 million Euros between 2003 and 2005.
This event starts at 12:00 PM on Wednesday, August 5th.
Members are invited to join by Zoom and participate in the live Q&A. Zoom details will be emailed in our weekly email newsletter. If you are a member and have not received this email, please send a message to contactus@wacreading.org.