The Importance of Advancing Women, Peace and Security in Qatar with Melissa Deehring
April 28 @ 12:00 pm

-

1:30 pm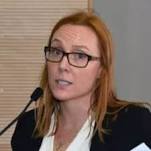 Melissa Deehring is a licensed attorney in the State of California and works as a Clinical Assistant Professor and the founding director/creator of the Externship Program at Qatar University College of Law in Doha, Qatar. Since 2011, Melissa has negotiated agreements with more than 115 legal employers in Doha, developed clinical curricula, and taught legal skills, ethics and advocacy classes to more than 1000 QU law students.
During her years as Director of the College of Law's Externship Program, student participation per semester increased by 850%, the number of jobs offered per semester increased by more than 800% and employer participation per semester increased by almost 400%. In addition, her class became the "Capstone" graduation requirement for all graduating senior law students.
Since stepping down as Director, Melissa has focused on developing new clinical courses and advocacy efforts advancing SDGs 5 & 16 and the global Women, Peace and Security agenda (WPS) in Qatar. One of Melissa's newest courses, "Justice, Equality & Leadership in Law", was QU Law's first full-semester course dedicated to teaching concepts from the United Nations Office on Drugs and Crime's (UNODC) Education 4 Justice (E4J) Integrity & Ethics Modules to address core integrity issues such as ethical leadership, strategies for ethical actions, corruption and human rights, and gender diversity.
Melissa's research focuses on how culture affects local legal professions, legal education, professional responsibility notions, and women's ability to join the bar and bench. Her most recent paper, The Emerging Legal Profession in Qatar: Diversity Realities and Challenges, published with the International Journal of the Legal Profession, focuses on gender diversity in the Qatari legal community. Her forthcoming paper, The News Media: A Catalyst for Women, Peace and Security in Qatar, an extension of her presentation at Qatar University's Law and Media Conference, argues that a Qatari National Action Plan and framework for WPS, that significantly incorporates and utilizes local media, is needed. As for research funding, to date, Melissa has been a joint author and key member of research teams that have won three significant research grants from the Qatar National Research Fund (QNRF) and secured almost $3,000,000 in external research funding.
Personally, Melissa is an active community volunteer and advocate for WPS. As one of her College's first female faculty members, Melissa has been a prominent voice encouraging women to join and lead in Qatar's legal profession. She organized and hosted Qatar's first Women in Law Conference on March 22, 2018 and won her College's Excellence in Community Service Award in August 2018. Melissa was awarded a NIFTEP (National Institute for Teaching Ethics & Professionalism) fellowship during December 2018 and has volunteered with the UNODC, THIMUN Qatar, and researchers at the University of Oxford. In 2019, Melissa was awarded two consultancies with the UNODC and named an 'Education for Justice (E4J) Champion'. She has presented conference papers and taught seminars to advance SDGs 5, 16 & WPS in Qatar, the United States, the UK, Russia, Indonesia, and China.
This event starts at 12:00 PM on Wednesday, April 28th.