Alice Paul: Women's Suffragist with Hallie Vaughan
September 18, 2019 @ 7:30 am

-

9:00 am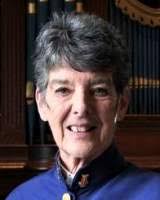 Alice Paul was a vocal leader of the 20th Century women's suffrage movement. Born on 1/11/1885 in Mount Laurel, NJ, she was brought up with the Quaker traditions of gender equality and working to improve society. She graduated from Swarthmore College in 1905 and would earn 4 more degrees in her lifetime. She joined the National American Women's Suffrage Association and led the Washington DC Chapter. After splitting with NAWSA and forming the National Women's Party, she organized parades and pickets, concentrating on a national effort to achieve the passage of women's right to vote.  The Nineteenth Amendment to the Constitution of the United States was passed by Congress June 4, 1919, ratified by the required three-fourths passage of the states August 18, 1920 and became law August 26, 1920.
With the passage of the Nineteenth Amendment, Alice Paul focused on equal rights first as a proposed  Constitutional amendment and then as legislation to guarantee women  protection from discrimination in education, employment and all other pursuits in life.  She  spent her long  life advocating for these and other women's issues.  She died in Moorestown, New Jersey, July 9, 1977.
Hallie Vaughan was born in Erie, PA, but moved to Berks County at age 12. She graduated from Wilson High School, Slippery Rock University and Gratz College. She taught for 31 years in the Muhlenberg School District, teaching mostly third and fourth grades. It was during this time that she became interested in women's history, incorporating lessons and activities into her classroom routine. After retiring, she continues to research, portray and speak about American Women who have been instrumental in United States history. She teaches a course at Alvernia's Seniors College, is a docent at the Berks County History Center, volunteers for the Berks County Veteran's Affairs Office, is actively involved with the Berks County Daughters of the American Revolution and with the upcoming Berks Suffrage 2020 Celebration set for next year. She has two grown sons, three grandsons and one granddaughter.
Reservations: Call 610-375-7880 or Email contactus@wacreading.org
Cost: $10.00